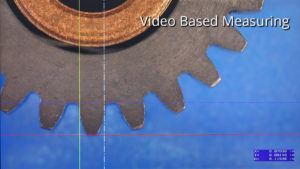 Non-Contact Measuring is?a broad term that can include several area of measuring. In the truest sense of the term, it is the ability to measure without touching, or contacting the item you are measuring. Microscopic as well as large scale measuring can also fit into this category as well.
For non-contact measuring, measurement via a video based system is used to perform the actual measurement without touch the subject. All that is needed is a calibration reference and measuring via video becomes fairly simple.
MicroImage Video Systems offers the VMU series of products for video measuring purposes. These units provide high precision and repeatability and were designed from the ground up for this type of application with a simple but powerful user interface. Click here for video measuring products.
For simpler applications where an absolute number isn't needed, MicroImage Video Systems offers Line Generators and Video Pattern Generators that can aid in simple relative measurements.